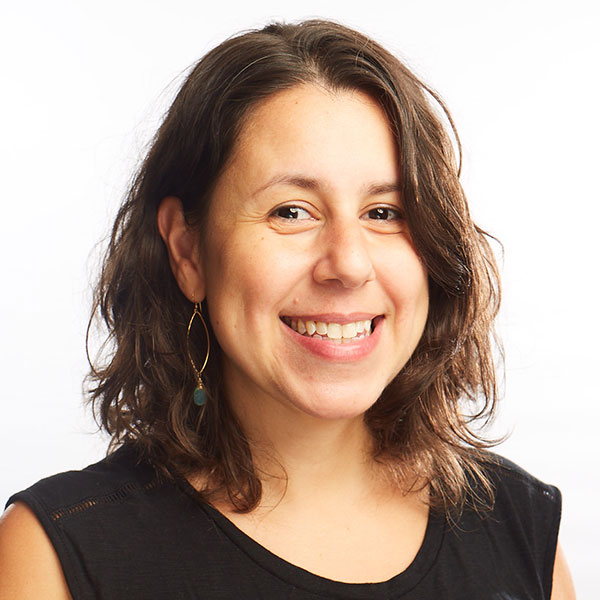 Dr. Stacey Alicea, Executive Director
Dr. Alicea (she/her)'s career as a practitioner-researcher of color embodies a deep commitment to bridging research and practice initiatives, particularly when it comes to equitable and holistic youth and adult development in school-based and community settings. Dr. Alicea most recently served as the Director of Early Learning Strategy at the Newark Trust for Education, where she led a comprehensive network-based strategy in partnership with families, local and national early learning organizations, and the Newark Board of Education. At the Trust, Dr. Alicea worked to improve equitable access to quality child care supports and learning environments that generated positive developmental and education outcomes for children ages 0-8. Prior to the Trust, Dr. Alicea served as Associate Executive Director at Ramapo for Children, a New York City-based education non-profit, where she led the expansion of Ramapo's school and out-of-school professional development, capacity building, and strategic learning division. Dr. Alicea holds a PhD in Applied Psychology from the Steinhardt School of Education at New York University; a Master of Public Health in Population and Family Health from Columbia University's Mailman School of Public Health; and a dual B.A. in Community Health and Sociology from Brown University.
---
Q & A
Q: Your career has been very non-linear, but you have always worked for the public good, from education to public health. Why is that important to you?
I come from a long line of family members with professions and jobs that center being in service to others. I believe this taught me to value working alongside others to make things better. I feel most fulfilled when I do work that is grounded in this value. Every time I face a big decision about what to do next in my career, I seek counsel from those I love, and ask myself: Will I be in community with, and of service to, others who deeply care about the things I want to change? What can I offer folks in this work? What can I learn from others doing this work? And most importantly, Will doing this make me happy? Every time I have asked these questions, I have ended up saying yes to work aligned with the "public good."
Q: How can RPPL help advance educational equity?
By doing exactly what RPPL is designed to do - accelerate teacher learning to support equitable outcomes for all students. As we work toward this goal, we must stay focused on ensuring we engage in learning as a collective that includes the voices of educators, educational leadership, and professional learning organizations best positioned to harmonize their approach with our collective learnings. We must always seek to not only test promising professional learning designs and content, but also to ensure they move us closer to eliminating disproportionate outcomes for historically marginalized children, so that all of our children and educators can thrive.
Q: What inspires you?
The shoulders of those I stand on. I count myself extremely fortunate to have been raised and shaped by a community of people who modeled for me what equity, authenticity, perseverance in the face of struggle, learning, and service to others looked, felt, and sounded like in everyday life. One of my favorite quotes is an African proverb - "If you want to go fast, go alone. If you want to go far, go together." When we go together, we can achieve seemingly impossible things.
Q: Do you have a favorite teacher? What about them was so influential or memorable?
I have many, and I can't pick just one! They were all very different from each other and came into my life at different times in my schooling, but three things stand out for me across all my relationships with them. They were all passionate about what and how they taught, which made me excited to learn from them. They all cared about and believed in me, and I felt that in our daily interactions, which made me connect with them. They were all Black and Latine, which made me feel like I could, one day, do what they did.
Q: What's your vision for RPPL?
To advance educational equity in ways that center those most impacted by the failures of our education system. To find the right solutions that work for communities, understanding that one size does not fit all. To ensure that before we allocate resources to a professional learning approach, we know that it works, whom it works for, and under what conditions it works, so it can be successfully adopted and scaled.
Q: What challenges do you see on the horizon for educators, and how can RPPL help?
Our educators are tasked with so much more than simply teaching a subject. They are models for how children can be in the world. You cannot separate a child's learning from their development of self in relationship to others and the world. We place so much on our teachers and provide them limited resources and support to take on the work of educating and shaping our children. Covid and our country's racial equity movement and political climate have shined a light on the multiple challenges our educators face – teacher shortages, community-wide trauma, burnout, and instructional autonomy in the classroom to name a few – while simultaneously exacerbating those challenges. More than ever, teachers need professional learning and support that can help them do their best to foster equitable student engagement, learning, and social-emotional development while also taking care of their own wellbeing.
Q: Tell us a little bit about yourself. How do you like to spend your free time?
Free time – what is that (big smile)? I have two young children, so free time can be hard to come by! Both with my family and on my own I enjoy cooking and eating, dancing, making little fun songs with my children that describe what we are doing or how we feel about each other, reading historical fiction, and of course, travel, which I am just getting back to doing again. Most of all, I am happiest when I am spending time with the people I love.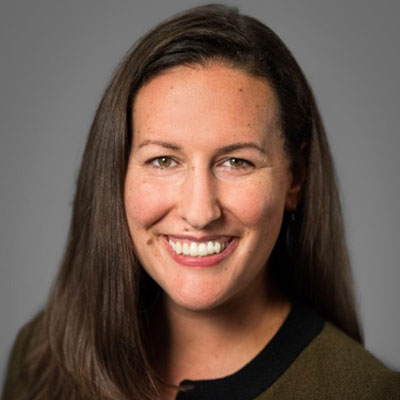 Annice Correia Gabel, Director of Operations, Finance, & Strategy
Annice Correia Gabel (she/her) is the Director of Operations, Finance, & Strategy at RPPL. She is thrilled to be at RPPL where equity is central to the mission, and where we bring high-quality research into practice. The role is her ideal alignment of skills and passion. Annice previously worked in roles spanning from direct social service to education research to operations and analytics in local and state agencies. She holds a B.A. in Social Science with a minor in Public and Community Service Studies from Providence College, an M.A. in Education and Social Policy from NYU, and completed the Strategic Data Project fellowship through Harvard's Center for Education Policy Research.
---
Q & A
Q: How did you get into the education field?
I had always been interested in entering the education field and while I was drawn to the classroom I knew I wanted to leverage my analytic skills to impact the field from a research and policy perspective. I've so enjoyed the many opportunities I've had to work supporting educators, school and district leaders, while learning new skills along the way. All that said, I expect the final chapters of my career to be in a classroom setting. I'm already looking forward to it!
Q: What can data tell us about education? 
While data and research findings are a great tool in the education space, I've experienced a healthy skepticism about data, research, and results from many. Collectively, we've ramped up the amount of data in education and it can be overwhelming! I do believe that a well-designed analysis or study that includes the voices of those represented in the data is best practice. I've seen firsthand how impactful that can be. 
Ideally, data in education can tell us many things: How are we performing overall as a country, a state, a district, a school? What is working well, and what needs improvement? How can an educator best support the needs of their students? 
I feel extremely fortunate to join the RPPL team where we get to both impact the production of high quality research and then connect it to practitioners. And all of this with equity at the core.  I'm enthusiastic to get to work supporting that vision. 
Q: What challenges do you feel professional learning can and needs to address?
I have experience working with a PL organization where I helped to design and analyze the anonymous surveys we would administer to educators at the end of sessions. I know through that experience and through my relationships with many educators that PL does not always feel relevant. I'd love for RPPL to play a role in changing that reality. I'm really impressed that my colleagues sought feedback from a broad community to develop the Call to Action and Learning Agenda and I look forward to working on all the challenges addressed there. 
Q: Do you have a favorite teacher?
I've had so many wonderful teachers - each year growing up my most recent grade school teacher was my favorite. I will say that two particular educators in high school left a lasting impact on me. 
Mrs. Dall was my AP English teacher in 11th and 12th grade. She created a classroom where respectful dialogue and creativity were highly valued. She offered us a lot of freedom while ensuring we were learning the rigorous curriculum. I hope to be like Mrs. Dall in many ways, most of all as a future educator. 
Mr. Rod was never actually my classroom teacher (though he taught in my high school). He was my track and field coach and he imparted so many lessons that continue to inspire and guide me: champions are made at practice, we're always working on our personal best, not to beat another athlete or team. 
Q: What is the best thing someone could do to improve education for kids?
This is such a difficult question! I think we do a great disservice to children when we do not acknowledge their health and safety within the education system. In my last role, I worked with data that showed a steeply rising trend in children's mental health diagnoses. This is a national crisis widely reported on that I think needs to be a bigger part of our thinking around effective classrooms, schools, and education systems. 
Beyond this, I am personally passionate about addressing and ending homelessness. Like the mental health crisis, there is a steadily growing number of students, albeit smaller, who experience homelessness each year. I would like to see more attention paid and funding available for these students. 
Q: How do you like to spend your free time?
I love to spend time with my husband and our foster children. We've been foster parents for about 4 years and have had the great privilege of loving 5 children and their families so far. 
I really enjoy riding my e-bike to the beach and going on long walks and hikes with my pup. I made a point of using my library card as much as possible in 2022 and look forward to keeping that up!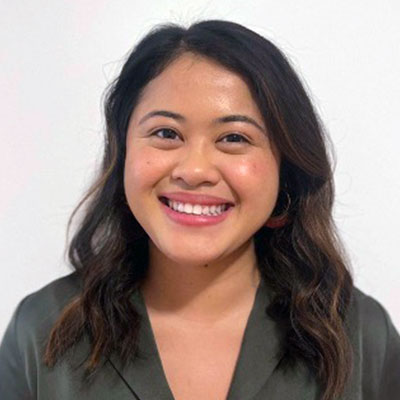 Krista Morales, Network Engagement & Learning Manager
Krista Morales (she/her) joins RPPL as its inaugural Network Engagement & Learning Manager. In this position, Krista will help bring people together to improve teacher PL, digging into the weeds of research design and problem-solving to help PL organizations better design their work for learning. Krista's career in education began as an undergraduate interning for Education Secretary John King and the U.S. Senate's Committee on Education. She then taught 7th and 9th grade ELA in Fall River, MA and continued teaching high school English in the South Bronx. She holds a B.A. in Political Science and History from Loyola Marymount University; an Ed.M in Teaching and Curriculum from Boston University; and an M.A. in Education Policy and Social Analysis from Columbia's Teachers College.
---
Q & A
Q: How did you become interested in the field of education?
I was born in the Philippines and moved to the United States when I was 5 years old. I didn't really understand how our education system was set up. When I went to school, teachers taught in a very rote and systematic way, where the teacher had all the knowledge. (Open discussions and engagement by and with students was not common.) When I got to college, I felt so unprepared, but I didn't understand why. I had gone to school and studied just like everyone else had. That's when I started asking questions about education and why my experience in school seemed to be different from other people's experiences.
Q: What inspired you to explore education policy?
Leaving the classroom was one of the hardest decisions I've ever had to make. Ultimately, I felt that to be an advocate for my students and to actually address root issues facing school systems, I had to leave. I also knew from my experiences in D.C. that many of our education policymakers didn't have on-the-ground experience in the classroom. They didn't know how policies were really affecting our students, teachers, and school leaders. I wanted to use the insights and experiences I gained in my school communities to propel tangible and informed changes in policy. 
Q: How do you feel RPPL can help improve PL?
From my experience as a teacher, I remember having to participate in a lot of professional development that didn't really apply to me – it felt like checking a box. I understood the value of professional development, but how it was being executed didn't help me or my students. I think RPPL can help understand why that is and fill the gap in existing research. We can give teachers the most rigorous, research-based curriculum and lessons, but if the buy-in isn't there, it's not going to work. That's why RPPL's work is so important. We're thinking about how we can leverage teacher collaboration, targeted coaching, and relationship-centered PL to build teacher investment.
Q: What challenges are on the horizon for teachers and how can RPPL help?
During COVID, there was a surge of creativity in the field. We were asked to reimagine what schools could look like and how to prioritize students' social-emotional well-being. But now that the pandemic is dying down, we're going back to traditional models of teaching and assessment. After experiencing that shift, teachers know (and have known) we need a more holistic way of measuring student achievement and progress. We have also been facing a teacher shortage and overall dissatisfaction in the profession. RPPL can really think through these challenges and figure out how we can utilize PL to uplift our teachers. Teachers need a lot of support and RPPL is well-positioned to understand what specific supports they need and how we should get it to them.
Q: Do you have a favorite teacher?
Yes, so many! But my AP Literature teacher senior year specifically comes to mind. That was the first time I had ever seen an Asian woman teach English. As someone whose native language isn't English, seeing someone who looked like me master the language was incredibly profound. She was just brilliant and served as a role model for me. The way she engaged her students and pushed our thinking made us feel like our opinions really mattered. During my first year of teaching, I tried to reflect her style of teaching because I remembered always being excited to go to her class and discuss our readings. I wanted my students to feel that way about reading too.
Q: What is the best thing someone could do to improve education for kids?
We need to look at education through an equitable lens. That's a buzz term in education, but in practice, I still don't think we're doing that. People in the field are still stuck in the mindset of assigning numerical value to students and categorizing them based on data. We're not viewing them holistically. (Same thing for our teachers.) While it's true we need more culturally responsive curriculum and standards-aligned practices, the first step to improving education is meeting students where they are. But in order to do that, we not only need to understand who they are as learners, but also as people.
Q: As an educator, and particularly an educator of color, what is needed to better support teachers?
Once we start treating teaching as the amazing and rigorous profession that it is, we will attract more candidates and more candidates of color. We're just not treating or paying teachers that way. [Imagine the response to saying you're a teacher as one that expresses "Oh, wow!" instead of "Thank you for your service."] When I was in the classroom, I also found racial affinity spaces to be incredibly nurturing. It helped to be around people who shared similar backgrounds, experiences, and perspectives on education. It's definitely a PL area we should explore further.
Q: How do you like to spend your free time?
I'll always be an English teacher at heart, so of course I have to say that I love to read! I also enjoy traveling and exploring New York City, especially its food scene.