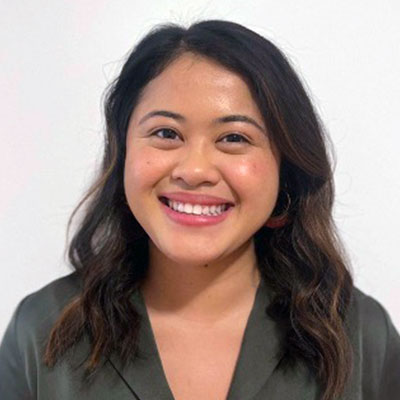 Network Engagement & Learning Manager
Krista Morales (she/her) joins RPPL as its inaugural Network Engagement & Learning Manager. In this position, Krista will help bring people together to improve teacher PL, digging into the weeds of research design and problem-solving to help PL organizations better design their work for learning. Krista's career in education began as an undergraduate interning for Education Secretary John King and the U.S. Senate's Committee on Education. She then taught 7th and 9th grade ELA in Fall River, MA and continued teaching high school English in the South Bronx. She holds a B.A. in Political Science and History from Loyola Marymount University; an Ed.M in Teaching and Curriculum from Boston University; and an M.A. in Education Policy and Social Analysis from Columbia's Teachers College.
---
Q & A
Q: How did you become interested in the field of education?
I was born in the Philippines and moved to the United States when I was 5 years old. I didn't really understand how our education system was set up. When I went to school, teachers taught in a very rote and systematic way, where the teacher had all the knowledge. (Open discussions and engagement by and with students was not common.) When I got to college, I felt so unprepared, but I didn't understand why. I had gone to school and studied just like everyone else had. That's when I started asking questions about education and why my experience in school seemed to be different from other people's experiences.
Q: What inspired you to explore education policy?
Leaving the classroom was one of the hardest decisions I've ever had to make. Ultimately, I felt that to be an advocate for my students and to actually address root issues facing school systems, I had to leave. I also knew from my experiences in D.C. that many of our education policymakers didn't have on-the-ground experience in the classroom. They didn't know how policies were really affecting our students, teachers, and school leaders. I wanted to use the insights and experiences I gained in my school communities to propel tangible and informed changes in policy. 
Q: How do you feel RPPL can help improve PL?
From my experience as a teacher, I remember having to participate in a lot of professional development that didn't really apply to me – it felt like checking a box. I understood the value of professional development, but how it was being executed didn't help me or my students. I think RPPL can help understand why that is and fill the gap in existing research. We can give teachers the most rigorous, research-based curriculum and lessons, but if the buy-in isn't there, it's not going to work. That's why RPPL's work is so important. We're thinking about how we can leverage teacher collaboration, targeted coaching, and relationship-centered PL to build teacher investment.
Q: What challenges are on the horizon for teachers and how can RPPL help?
During COVID, there was a surge of creativity in the field. We were asked to reimagine what schools could look like and how to prioritize students' social-emotional well-being. But now that the pandemic is dying down, we're going back to traditional models of teaching and assessment. After experiencing that shift, teachers know (and have known) we need a more holistic way of measuring student achievement and progress. We have also been facing a teacher shortage and overall dissatisfaction in the profession. RPPL can really think through these challenges and figure out how we can utilize PL to uplift our teachers. Teachers need a lot of support and RPPL is well-positioned to understand what specific supports they need and how we should get it to them.
Q: Do you have a favorite teacher?
Yes, so many! But my AP Literature teacher senior year specifically comes to mind. That was the first time I had ever seen an Asian woman teach English. As someone whose native language isn't English, seeing someone who looked like me master the language was incredibly profound. She was just brilliant and served as a role model for me. The way she engaged her students and pushed our thinking made us feel like our opinions really mattered. During my first year of teaching, I tried to reflect her style of teaching because I remembered always being excited to go to her class and discuss our readings. I wanted my students to feel that way about reading too.
Q: What is the best thing someone could do to improve education for kids?
We need to look at education through an equitable lens. That's a buzz term in education, but in practice, I still don't think we're doing that. People in the field are still stuck in the mindset of assigning numerical value to students and categorizing them based on data. We're not viewing them holistically. (Same thing for our teachers.) While it's true we need more culturally responsive curriculum and standards-aligned practices, the first step to improving education is meeting students where they are. But in order to do that, we not only need to understand who they are as learners, but also as people.
Q: As an educator, and particularly an educator of color, what is needed to better support teachers?
Once we start treating teaching as the amazing and rigorous profession that it is, we will attract more candidates and more candidates of color. We're just not treating or paying teachers that way. [Imagine the response to saying you're a teacher as one that expresses "Oh, wow!" instead of "Thank you for your service."] When I was in the classroom, I also found racial affinity spaces to be incredibly nurturing. It helped to be around people who shared similar backgrounds, experiences, and perspectives on education. It's definitely a PL area we should explore further.
Q: How do you like to spend your free time?
I'll always be an English teacher at heart, so of course I have to say that I love to read! I also enjoy traveling and exploring New York City, especially its food scene.