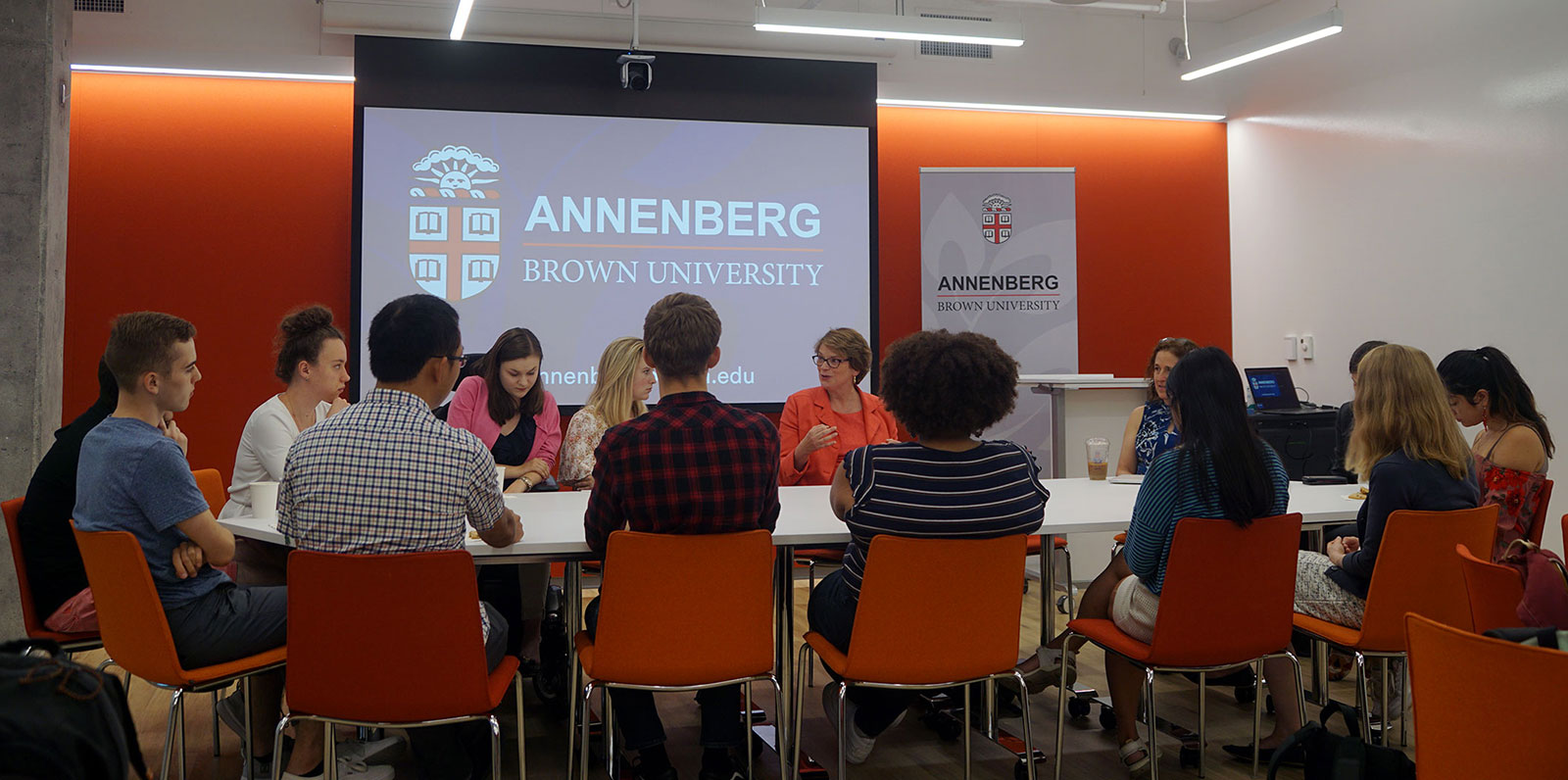 Brown University President Christina Paxon speaking to Annenberg Undergraduate Fellows on Education and Social Policy
---
Recruitment for the Class of 2021 has not yet begun. The deadline to apply will be announced in the fall of 2020.
The Annenberg Undergraduate Fellows Program is an eight-week, paid summer fellowship that aims to prepare current Brown undergraduates to engage in rigorous empirical research in education and social policy.
During the course of the program, a cohort of 8-10 Fellows engage in a series of didactic workshops and seminars and participate experientially in team-based research projects that focus on schools, students, and education policy. Fellows are exposed to and interact with a wide range of Brown faculty who are working in these domains. The team-based project environment emphasizes mentorship and peer learning. The program otherwise fosters a dynamic and supportive intellectual community and an enduring relationship with the Annenberg Institute.
Training Goals Include:
Understand key education and social policy questions.
Develop skills in data management and data analysis.
Gain fluency in using statistical software to conduct quantitative analysis using large administrative datasets.
Develop measurement skills including selecting and assessing measures and designing and writing survey items.
Hone synthesis skills including literature reviews.
Practice communication skills including data displays, visualization, and academic writing.
Become an effective member of a research team.
Following this program, Fellows will have abundant opportunities to join faculty-led research projects as paid research assistants. Completion of this training will also facilitate Fellows' transition to related graduate study programs or professions in social science and policy.
Program Requirements:
Selected Fellows are expected to commit to entire 8-week, full-time (35 hours/week) training program.
Fellowship applicants should have a strong interest in education and social policy and motivation to continue to pursue research during their time at Brown.
Eligibility:
The program is open to Brown undergraduate students in their freshman, sophomore, or junior years.
Undergraduates from all concentrations and backgrounds are welcome to apply.
Prerequisites: Coursework in introductory statistics (e.g., EDUC 1110, SOC 1100, CLPS 0900, APMA 1650, ECON 1620 or equivalent) and some familiarity with statistical computing software (e.g., Stata, R, etc.) is preferred, though not required.
Program Dates:
June 7 - July 30, 2021

Funding:
The Annenberg Institute will provide a $4200.00 stipend in four equal installments over the course of the fellowship.
Note: Housing is NOT provided by this fellowship but Fellows are eligible for affordable, summer housing via Brown Residence Life. For details/To apply, see here: https://www.brown.edu/academics/summer-session/campus-life.php or contact res_life@brown.edu
How to Apply:
Applicants should submit:
A personal statement (2 pages or less, double-spaced, 12-point font, 1 inch margins). Please consider the following questions in your personal statement:

Why are you interested in participating in the Annenberg Undergraduate Fellows program? How does participating in this program fit with your future educational and career goals?
How have your coursework, volunteer, and/or work experiences prepared you to engage in education and social policy research?

A transcript/current Academic Record
The Annenberg Institute aims to build diverse, inclusive and supportive cohorts. Students from underrepresented groups and students from diverse backgrounds are strongly encouraged to apply.
Application Deadline:
Recruitment for the Class of 2021 has not yet begun. The deadline to apply will be announced in the fall of 2020.